No big surprises from cautious English

NZ Newswire
18/12/2016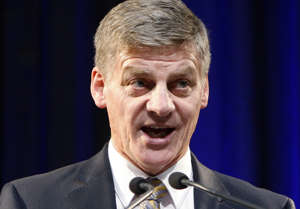 © Nick Perry/ AP Bill English Labour has described Prime Minister Bill English's cabinet reshuffle as "underwhelming", and that's fair comment on a shake-up that has kept key portfolios in the same safe hands.

He's gone some way to satisfying backbench restlessness by appointing one backbencher to the cabinet and three to ministerial positions outside it, all of them holding minor portfolios.
His "high performing" ministers Simon Bridges and Amy Adams have moved up a notch in the rankings and extra responsibilities have been added to their respective portfolios of transport and justice.
Mr Bridges, one of Mr English's challengers for the leadership until he pulled out of the race, has moved into the inner cabinet.
Gerry Brownlee is still minister of defence, Jonathan Coleman is still minister of health, Anne Tolley is still minister of social development and Nathan Guy is still minister for primary industries.
The only one with cause to be upset is Judith Collins, who also briefly challenged Mr English.
She's lost her police portfolio, which has gone to Deputy Prime Minister Paula Bennett, and corrections which has been given to Louise Upston, promoted to cabinet from being a minister outside it.
Ms Collins wasn't commenting on Sunday night.
Steven Joyce has been confirmed as finance minister, an appointment Mr English made last week.
Murray McCully will stay as foreign minister until May 1, when a new appointment will be made, and the same goes for Hekia Parata as education minister.
Nikki Kaye will succeed her if she has by then recovered from breast cancer which is under treatment.
As far as a fresh new look for an election year goes, this cabinet isn't worrying the opposition.
"New cabinet, same old songbook," said Labour's deputy leader Annette King.
"Bill English's `rejuvenation' is one new minister in cabinet and three outside it - and two of them have been in parliament for 11 years already."
She was talking about David Bennett and Jacqui Dean, two of the newcomers.
The other two are Alfred Ngaro and Mark Mitchell.
Labour doesn't think there will be any significant changes of direction under Mr English.
"Any hopes that Bill English would bring a fresh new approach have been dashed," said Ms King.