No desire to bankrupt Little: Hagaman

NZ Newswire
4/04/2017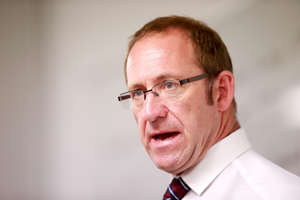 Millionaire Lani Hagaman has no desire to bankrupt Labour leader Andrew Little but says her husband's reputation is worth a lot more than the $2.3 million they want from him in damages.
Mrs Hagaman and her husband Earl are both suing Mr Little for defamation before a judge and jury in the High Court at Wellington.
The suit stems from comments Mr Little made in a press release and subsequent radio and television statements in April last year about a $100,000 donation made by Mr Hagaman to the National Party a month before his company, Scenic Hotels, was awarded a contract to operate Niue's Matavai luxury resort.
The resort is heavily funded by the New Zealand government and is owned by a trust on behalf of Niue's government.
During a fiery exchange under cross examination by Mr Little's lawyer John Tizard on Tuesday, Mrs Hagaman said she didn't want to be made to look like the bad guy for asking for $2.3 million.
"The damage to our reputation is worth far more than that I can assure you," she said.
Asked whether she still wanted the money if it would bankrupt Mr Little, she said she had no desire to bankrupt anybody and was not aware of Mr Little's financial position or ability to pay.
Mrs Hagaman said Mr Little could have avoided a defamation lawsuit and prospect of being bankrupted by an order of damages by apologising earlier than last Friday, when he apologised in a public statement.
"I'm sorry Mr Tizard, your client forced me to be here, I don't want to be here. Your client gave me no other option," she said.
"My husband is dying in Christchurch and I'm fighting for his reputation for something that should never have happened."
Mrs Hagaman defended refusing two settlement offers from Mr Little which first included an offer to apologise and later an apology.
She said Mr Little's first offer in March included compensation of $26,000 which was unacceptable as her legal fees had already exceeded $250,000.
The second offer increased the offer of compensation to $100,000 but was refused on the same grounds.
"My position has been, since day one, I want an apology, I want my costs covered," she said.
The Hagaman's youngest daughter Toya Hagaman told the court she received a post on her Facebook page attacking her mother over the deal.
"For Lani, the deal stinks to high heaven you litigious bitch," Ms Hagaman read from the post, which she said left her "really upset".
National Party President Peter Goodfellow gave evidence that he met with the Hagamans to accept the $100,000 donation in person but said they did not discuss Mr Hagaman's intention to expand his business into the Pacific.
The trial is continuing.