No quick fix for Kermadec sanctuary

NZ Newswire
20/09/2016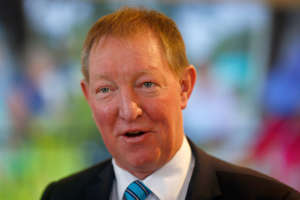 © Phil Walter/Getty Images

Nick Smith

Deputy Prime Minister Bill English has indicated it could take months to find a way through the impasse over the Kermadec Ocean Sanctuary.

He's taken over from Environment Minister Nick Smith following the breakdown in negotiations with the Maori Fisheries Trust.

"We're going to take time over the coming weeks and months," Mr English told parliament on Tuesday.

"I won't pre-empt those discussions ... I hope we can get to a position where the sanctuary can be created and everyone is happy."

Dr Smith's talks foundered because the trust insisted that iwi fishing rights in the sanctuary area, granted in the 1992 fisheries settlement, must be maintained even though Maori have never fished there.

On Monday trust representatives met the co-leaders of the Maori Party and they agreed to work together to find a solution.

The next step will be negotiations between the Maori Party and the government.

Co-leader Marama Fox says she's happy with Mr English leading the government side.

"In Bill we have a listening ear, and in Bill we have an indication that the government will slow things down," she told reporters.

"It needs to be given priority but we're not going to rush to the end point, we're not going to anticipate what that end point is."

Earlier on Tuesday Dr Smith said he was surprised the negotiations had degenerated into a row over Maori settlement rights.

"There was very broad support for it, so I've been a bit surprised by the level of controversy," he said.

"When the bill was first introduced - four months after the sanctuary was announced - it received the unanimous support of parliament."

Dr Smith says he's confident that fresh negotiations, led by Mr English, will solve the problem.

"I'm still confident we will get the sanctuary in place, in good time and in good faith," he said.
© Getty Images Labour leader Andrew Little Labour leader Andrew Little is blaming Dr Smith's "mishandling" for the impasse.
He says he can't guarantee Labour will continue to support the sanctuary bill if the government doesn't find a solution.
The bill that creates the 620,000 square kilometre sanctuary 1000km north-east of New Zealand has been put on hold, and the government won't bring it back to parliament until it has sorted out the Maori rights issue.
A compromise that's being suggested is for the settlement right to be maintained, linked to an agreement by the trust that Maori won't fish in the sanctuary.
Although they've held that right since 1992, no Maori have fished in the area.