No TVNZ merger, parliament told

NZ Newswire
16/06/2016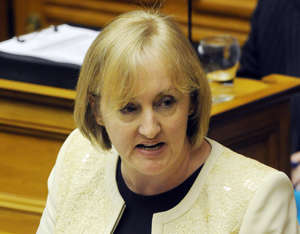 The government has no plans to merge TVNZ with rival broadcaster MediaWorks, parliament has been told.
Broadcasting Minister Amy Adams was questioned on Thursday following a report in the Australian on Sunday newspaper that merger talks had taken place.
"There is no merger between TVNZ and MediaWorks," Ms Adams said.
"I have made it very clear - there is no plan to merge with MediaWorks, there is no plan to sell TVNZ."
Prime Minister John Key on Wednesday said he didn't know about any merger talks.
"I think it's very unlikely to happen, I don't think there's a great deal of support on the government side," he said.
"That's a critical part of it, because the government would have to allow that to happen on the TVNZ side."
Asked why the government wasn't interested, he replied: "Primarily because we like the concept that there are competing networks, in our view it's not something we're looking to progress."
However, Mr Key said he had heard - not formally but on the grapevine - that there had been "a bit of interest, which simply reflects the fact that there's a very challenging landscape in the media world".
Mr Key also said he was "aware of at least a bit of discussion that there might have been some interest on the TVNZ side in relation to some of the assets owned by MediaWorks".
TVNZ told NZ Newswire it had no comment to make.
A MediaWorks spokeswoman said the company would appoint an advisor to ensure it could "capitalise on any opportunities arising from consolidation of the New Zealand media market".