Northport makes case for Auckland freight

NZ Newswire
8/07/2016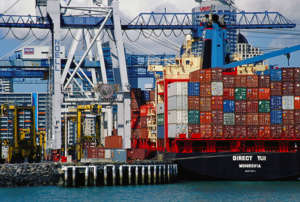 © Richard Cummins/Corbis Documentary/Getty Images The Direct Tui of Monrovia, a container ship, is moored at the port of Auckland Northport, operator of the deep water port at Marsden Point in Northland, says all the ports in the upper North Island can serve Auckland.
There's pressure to move Auckland's port from its downtown location so the public can have more access to the harbour.
A week ago a study recommended Ports of Auckland's freight operations should be moved to Manukau Harbour or the Firth of Thames at a cost of $4 billion to $5.5 billion with cruise ships staying downtown.
Northport Chairman Sir John Goulter says the report, and the strategy group handling the process, were wrong to dismiss Northport and Port of Tauranga.
Sir John says Auckland's freight could be "unbundled" and handled by a number of ports across the upper North Island.
He says Auckland will always require its own port.
There is 180 hectares of undeveloped, green field commercial-zoned land adjacent to the port in Northland, Sir John says.
"The people of Northland would welcome the benefits and opportunities that selective unbundling of Ports of Auckland's total freight task could potentially bring to our region," he said.