NowThisNews Is Working With Snapchat On An Ephemeral News Service

TechCrunch
6/05/2014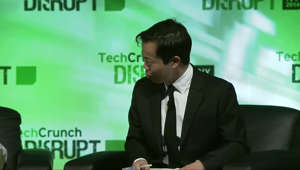 Mobile news startup , built around the idea of short and viral-friendly clips of news stories, has made some inroads into big media with an  and  with NBCUniversal, but it's also looking to build its presence in the opposite, more disruptive direction. The VC that incubated it says that NowThisNews is working on a partnership with Snapchat, the ephemeral messaging service.
Speaking on stage at TC Disrupt, Ken Lerer, a partner at Lerer-Hippeau Ventures (new name to incorporate the role of Eric Hippeau) and the person who helped originally conceive of NowThisNews, says there is a "deal to be done shortly" between the two.
It's not clear exactly what that deal may entail, but there had already been some ideas laid down before today.
From its earliest inception, NowThisNews has set out to use social networks as a primary distribution channel. You can share clips on sites like Facebook and Twitter, and there is a partnership with Vine in place already. But Lerer today said that "the best concept" of how that has been done so far has been its integration with Instagram, where summarizing key points of a news story.
Now it looks like Snapchat may be getting a more formal piece of that newsy action.
When Snapchat launched its app update last week with video chat functionality, NowThisNews made a call for people to use the feature as a way to feed it leads on stories. Here's the video it posted for that:
I'd make a guess that if you combine the new video chat feature with the kind of content that NowThisNews has been creating, it looks like it's working on a kind of two-way service for the app, where it can push and broadcast news to Snapchat users in the form of alerts on their timelines, while also using it as a way of encouraging more user-created content.
It's not clear whether those news stories, or your own tips to NowThisNews, would follow the app's ephemeral aesthetic. Given the short nature of NowThisNews' segments, though, it would seem to make sense to keep them disposable.
The idea of Snapchat as a media distribution platform is a timely concept that links up well with one way that the free app could monetize its services in the future — through branded content and advertising. We are already appearing on the app.
On other subjects, the conversation between Lerer-Hippeau's partners touched on the rumor that BuzzFeed, another Lerer portfolio company, where Ken Lerer is the chairman of the board, was in .
Lerer would not comment on the report — or whether it was really true that Disney balked on the site's $1 billion price tag. But he did note that acquisition may not be the exit that BuzzFeed may ultimately take.
"Jonah wants an independent company so that might mean a different exit, or cash out," Lerer said. Asked if a different exit could mean IPO, Lerer was evasive. "There are a certain number of different possible exits," he said. "I guess that IPO is one of them."
Indeed, "different exit" could mean simply a different kind of buyer that might leave the company with operational independence.
He said that the site was "doing well, on a great run," and was on track for 150 million uniques per month and on track to double traffic this year over last. The site has made several international expansions as part of that growth.
jordan-cooper1

eric-hippeau

ben-lerer1

anthony-ha1

ken-lerer2

ken-lerer1

jordan-cooper

anthony-ha

jordan-cooper-eric-hippeau

ben-lerer

ken-lerer

lerer-panel12

lerer-panel1

lerer-panel

lerer-panel3

lerer-panel4
 View Slideshow Previous Next Exit