NRL boss Todd Greenberg casts doubt on 2018 Nines in New Zealand

NZ Newswire
4/02/2017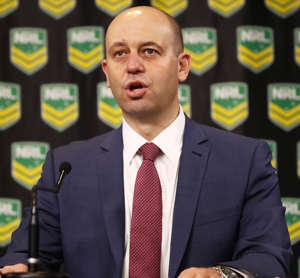 © Brendon Thorne/Getty Images NRL CEO Todd Greenberg NRL boss Todd Greenberg admits the organising body would be open to moving the 2018 Nines tournament away from Auckland.
Anaemic crowds at Eden Park on Saturday have put a dampener on day one of nines action, despite a number of stars including Johnathan Thurston taking part.
Crowds at the event have been on the decline since a successful inaugural event in 2014, sliding down to 37,000 last year, well below the stadium's 50,000 capacity.
Greenberg told reporters that the NRL was contractually obliged to host the nines in Auckland until next year, having signed deals with local promoters Duco Events and Auckland Tourism (Ateed).
But both parties would have to come to the table and talk with the NRL about what happens for the 2018 tournament, the final year under the current deal.
Changes may be made, including location, but Greenberg was careful to point out that the event would remain in Auckland if no agreement was reached.
"This is a great event that's got legs in a lot of different markets, including Auckland," Greenberg said.
"We need to think carefully about what the next cycle looks like, so the first people we'll need to talk to are our partners, Duco and Ateed."
He also admitted that beyond the 2018 tournament, the NRL were not likely to sign another five-year deal to host the nines in a single location.
The comments come just days after Greenberg said the 2018 tournament was certain to remain in Auckland.
Venues in Melbourne, Brisbane, Gold Coast, Perth and Townsville are all reportedly in the frame for the event beyond 2019.
Greenberg also said various international locations including Singapore and North America had expressed their interest to host the nines.