NZ 49er crew still lead at World Cup

NZ Newswire
7/12/2016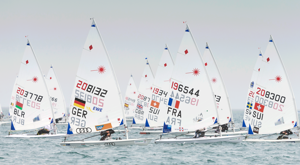 New Zealand 49er crew Isaac McHardie and William McKenzie have retained their narrow lead after the second day of the Sailing World Cup Final regatta in Melbourne.
The Kiwi pair finished seventh, fifth and first in the day's three races to be one point ahead of Spaniards Diego Botin le Chever and Iago Lopez Marra.
The 19-strong fleet is midway through a 12-race qualifying series, with the medal races set down for Sunday.
The best of the two other New Zealand 49er crews are fifth-placed Josh Porebski and Trent Rippey.
New Zealand are represented in seven classes.
Nacra 17 pair Olivia Mackay and Micah Wilkinson climbed one spot to second overall after placing second, third and first on Wednesday.
They are seven points behind leading Australians Jason Waterhouse and Lisa Darmanin.