NZ accept deserved Irish win

NZ Newswire
6/11/2016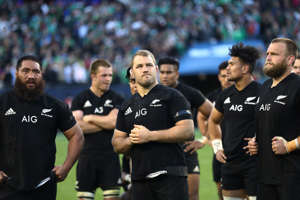 After a record 18 consecutive Test wins, All Blacks senior players would be forgiven for forgetting the art of losing gracefully.
Yet Steve Hansen's men showed no signs of sour grapes on Saturday after their 40-29 loss to Ireland, acknowledging their inferiority on the day and looking ahead to next week's Rome Test.
The world champions were well below their best on neutral territory in Chicago, behind by 22 points by the 50th minute and conceding 40 points for the first time in 12 years.
Ireland, meanwhile, produced a near-flawless display in defence and at the set-piece to build an insurmountable lead in front of more than 62,000 fans.
Fullback Ben Smith, who nabbed a second-half try, said after the match that his side could do no more than congratulate their foes on a job well done.
"We still had the belief to keep playing and attacking, and maybe a few errors let the Irish team in, but they were a good team to take those opportunities," the Highlanders skipper said.
"The Irish did really well to find ways of turning the game in their favour."
The loss marks the side's first defeat since the 2015 Rugby Championship decider in Sydney, with a number of younger players having never lost in the black jumper.
Playmaking stalwart Aaron Cruden, who entered the fray in the second half and played a major role in his side's brief comeback, said Ireland were simply given too much leeway.
"Kieran (Read) got us together straight after the final whistle and said, make sure we don't ever forget this feeling, and use it as motivation," the first-five said.
"When you don't quite get it right, it hurts, especially out there with an atmosphere like that."
The world champions will fly to Rome on Sunday night before taking on Gli Azzurri next Saturday.
Assistant coach Ian Foster said the coaching staff would treat the loss as a one-off event with the opportunity to make amends just a week away.
The All Blacks have never lost to Italy, emerging victorious in all 13 of their Tests since 1979.
The side will also get the chance to seek vengeance on Ireland when they resume hostilities in Dublin on November 19.
"If we won again we would go through and figure out how we can improve, and we're going to go through that same process from a losing perspective," Foster said.