NZ aura dominates Kangaroos: Meninga

NZ Newswire
5/05/2016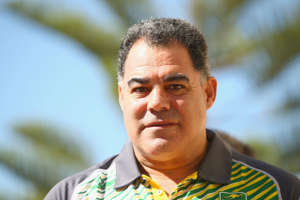 © Mark Kolbe/Getty Images Kangaroos coach Mal Meninga watches on during the Australia Kangaroos Test team photo session at Crowne Plaza Coogee on May 2, 2016 in Sydney, Australia New Kangaroos coach Mal Meninga admits the Kiwis have developed an aura of dominance over Australia as he prepares for his debut heading up the national team.
World No.1 New Zealand have beaten Australia in the last three rugby league Tests between the sides ahead of Friday's match in Newcastle.
After a decade of unprecedented success with Queensland, Meninga takes the reins of the Kangaroos for the first time against a New Zealand side who might be missing a few stars, but one the former Australian centre knows are not short on self belief.
"Their forward pack is an exceptional forward pack and it has been for a number of years," Meninga said on Thursday at Hunter Stadium.
"(Kiwi coach) Steve (Kearney) has a really strong unit and (Kiwi skipper) Jesse (Bromwich) mentioned the aura they have developed and are keen on protecting that.
"(They are) going to be hard to break down. It is about getting our heads right and our attitudes right."
Newly installed Kiwi skipper Bromwich said the visitors are determined to continue on their winning run.
"We have to protect what Steve and the rest of the boys have built over the last few years. It is an important match for us," Bromwich said.
Meninga, who has spoken at length about his desire to return pride and passion to the Kangaroos jersey since being appointed as coach in December, said the Kiwis' dominance had been a shot in the arm for international rugby league.
"It does hurt a little bit, but you admire what has happened with the Kiwis and that is good for international rugby league," he said.
"This is what hopefully makes it so exciting and gets it back on the back pages.
"With Wayne (Bennett) coming on board to the England national side it adds a bit more spice to the international program.
"Deep down we want teams to be successful but we also want international rugby league to be put back on that pedestal that it deserves I am glad I am part of all that."
The Australian and New Zealand sides completed their preparation for the Test with their captain's runs on Thursday morning.
Sydney Roosters three-quarter Shaun Kenny-Dowall could be a late omission for the Kiwis, who are missing Kieran Foran due to personal issues and have dumped Issac Luke due to a leg injury.
KEY STATS
* Of the 16 one off mid-season Tests played since 1998, Australia has won 15, 10 of those by 16 points or more
* A victory in this match would see the Kiwis win four straight matches against Australia for just the second time in their history and for the first time in over 60 years. The Kiwis' best ever winning streak against Australia came in 1952-53 when they won four straight against them
* New Zealand has won just five of its past 30 matches against Australia in Australia. However after defeating them in their past two meetings, both of which came at Suncorp, the Kiwis are now looking to win three straight against the Kangaroos in Australia for the first time in their history.
Source: Fox Sports Stats