NZ can cope with Brexit turmoil: English

NZ Newswire
29/06/2016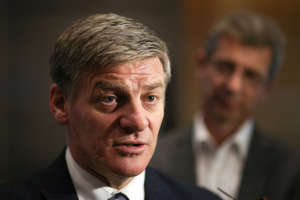 Finance Minister Bill English has insisted New Zealand is better placed than most countries to manage any turmoil generated by the decision of British voters to back leaving the European Union.
In an interview with Bloomberg, English said New Zealand was comparable with just a few other countries such as Iceland, South Korea and Australia, that had room to respond if the vote led to a downward spiral in the world economy.
He added that New Zealand had a "combination of reasonable government finances, a reasonable growth path, and room for interest rates to move. It makes you realise how few tools other countries have".
The New Zealand dollar gained on Wednesday as the extreme volatility in financial markets since Friday's vote began to settle. The kiwi increased to 70.75 US cents at 5pm in Wellington from 70.39 cents at 8am, and 70.44 cents on Tuesday. The trade-weighted index rose to 75.90 from 75.70.
Traders now see it as increasingly likely that the Reserve Bank governor Graeme Wheeler will cut the official cash rate to 2 per cent from 2.25 per cent on August 11.
Mr English said that New Zealand was "fortunate to be in a part of the world where there's a bit more stability and better growth prospects, something we share with Australia".