NZ commodity prices fall in March

NZ Newswire
5/04/2016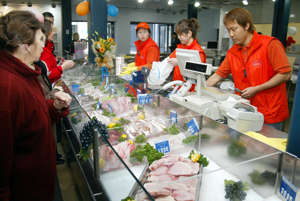 © Getty Images/Sandra Teddy Staff attend to the customers who purchase from the selection of fresh seafood displayed at the new Auckland Fish Market New Zealand commodity prices fell 1.3 per cent in March as weaker dairy, forestry and seafood prices outweighed advances in meat prices.

The ANZ Commodity Price Index slid to 230.5 in March from 233.5 in February and was 22 per cent down on an annual basis. In New Zealand dollar terms, the index fell 2.9 per cent in March for a 14 per cent annual decline.
Dairy price declines weighed heavily in March, with an 11 per cent decline in casein, a 12 per cent fall in cheese, and a 7.7 per cent drop in butter, ANZ rural economist Con Williams said in his report.
Milk powders, which make up a larger proportion of New Zealand exports, didn't face the same pressure with prices for skim milk powder down 3.7 per cent and whole milk powder prices up slightly at 0.4 per cent.
"Oversupply in key US and European markets looks to be the catalyst," Williams said.
Dairy product prices have fallen for five of six auctions on the GlobalDairyTrade platform this year, as the European Union signals it will underpin production even in the face of global oversupply, and amid continuing Russian import bans and weaker demand from China following a build-up of inventories.
Prices have remained lower for longer than expected, putting pressure on dairy farmer incomes, dairy debt levels and spending in rural communities.
Non-dairy prices in the ANZ index lifted 0.7 per cent in March, the second consecutive gain. Beef prices rose 3.1 per cent, skins increased 2 per cent, wool advanced 1.4 per cent and lamb gained 1.1 per cent. Offsetting that, log prices declined 1.3 per cent, seafood slipped 1.6 per cent and venison declined 3 per cent.
While the local currency was broadly unchanged over the month as measured by the trade-weighted index, the kiwi strengthened against the US dollar, British pound and euro, offsetting declines against the Aussie and the yen.