NZ condemns North Korean nuclear test

NZ Newswire
9/09/2016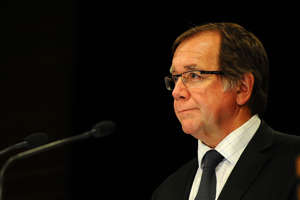 North Korea's nuclear test is a dangerous affront to the international community and a serious threat to regional security, says New Zealand's Foreign Minister Murray McCully.
North Korea said Friday it conducted a ``higher level'' nuclear warhead test explosion, which it trumpeted as finally allowing it to build ``at will'' an array of stronger, smaller and lighter nuclear weapons. It is Pyongyang's fifth atomic test and the second in eight months, Associated Press reports.
Mr McCully is joining world leaders in condemning the test, and says as the current president of the UN's Security Council "we expect to convene a meeting in response to the test shortly".
"This latest nuclear test is highly provocative and deeply concerning, especially as it comes on the back of a series of ballistic missile launches by North Korea recently" Mr McCully says.
"This is the fifth nuclear test conducted by North Korea, and it directly defies the UN Security Council which has demanded that North Korea stop nuclear testing.
New Zealand absolutely rejects the testing of nuclear weapons and is strongly committed global disarmament and non-proliferation, he says.
South Korea's president called the detonation, which Seoul estimated had produced the North's biggest-ever explosive yield, an act of ``fanatic recklessness.''
North Korea, led by a third-generation dictatorship and wary of outsiders, protects its nuclear programme as a closely guarded state secret, and the claims about advancements made in its testing could not be independently verified.
North Korea said there was no radioactive material leaked.