NZ Defence Force in aid exercise

NZ Newswire
2/08/2016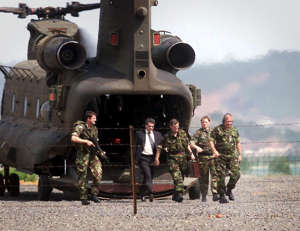 © Rex Shutterstock Humanitarian operations in a fictional South Pacific country are the focus of a joint exercise involving military personnel from New Zealand, China, the United States and Australia.
Exercise Co-operation Spirit, being staged in New Zealand this week, is an annual table-top event aimed at strengthening co-operation and developing coalition humanitarian aid policies.
Major-General Tim Gall, Commander Joint Forces New Zealand, says the exercise will use a detailed scenario to present participants with problems to resolve.
Issues will include delivering and distributing humanitarian aid, dealing with large numbers of displaced persons and protecting civilians.
The exercise will also look at the role of women in peace and security operations, working with government and non-government agencies, and the military's role in an humanitarian crisis.
"All of these issues have been faced in real world disasters in the Pacific in the past 10 years," Maj-Gen Gall said.
"This exercise will continue to validate how we work together while also extending the knowledge of each others' humanitarian operations organisation, equipment and capabilities."
Participants also include non-government organisations, New Zealand police and the New Zealand foreign affairs and trade ministries.