NZ dollar drops as risk aversion returns

NZ Newswire
13/09/2016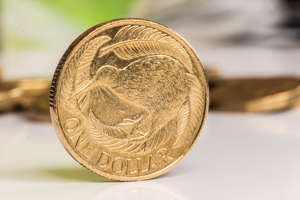 © Getty Images The kiwi fell to 72.40 US cents The New Zealand dollar dropped to a two-week low as equities, bonds and commodities fell and investors eschewed riskier assets in favour of the greenback.
The kiwi fell to 72.40 US cents, the lowest since September 2, from 73.39 cents late on Tuesday. The trade-weighted index fell to 77.48 from 78.13.
Stocks fell in Europe and the US, with the Stoxx 600 Index down 1 per cent and the Dow Jones Industrial Average down 1.4 per cent.
"The commodity currencies have significantly underperformed, a reflection of increased risk aversion and the stronger USD has led to widespread falls in commodity prices," said BNZ's Jason Wong.
"There is widespread agreement that bonds and equities are over-valued and investors are finally doing something about it."
Traders will be watching for balance of payments figures for the second quarter, which are expected to show the current account deficit fell to 2.6 per cent of gross domestic product, from 3 per cent. The market is also mulling the prospects for the Federal Reserve's monetary policy review next week after mixed views from Fed officials left December looking like the earliest for an interest rate hike.
The local currency fell to 97.04 Australian cents from 97.28 cents on Tuesday and fell to 4.8404 yuan from 4.9017 yuan. It dropped to 64.62 euro cents from 65.33 cents, slipped to 54.90 British pence from 55.02 pence and declined to 74.36 yen from 75.03 yen.