NZ dollar drops below 70 US cents

NZ Newswire
21/07/2016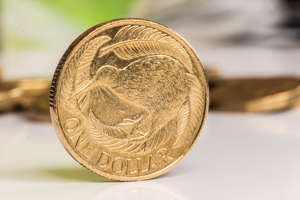 The New Zealand dollar dropped below 70 US cents and weakened against most of the major currencies following a Reserve Bank update that signalled further interest rate cuts are looming.
The Kiwi traded at 69.88 US cents at 5pm, up from 70.56 late Wednesday. The Trade Weighted Index fell to 74.97 from 75.68.
The RBNZ said "further easing is likely", with the currency 6 per cent above forecasts in its June monetary policy statement on a trade-weighted basis.
That was making it difficult to meet its mandated target of keeping inflation between 1 per cent and 3 per cent in the medium term, the central bank said.
The next monetary policy statement is due on August 11. The official cash rate is currently at a record low of 2.25 per cent although bank economists now expect a cut to at least 2 per cent next month and potential to go to 1.75 per cent in November.
Tim Kelleher, head of institutional FX sales at ASB Bank, said the Kiwi could have fallen further.
"I probably would have thought it could have gone a bit lower. It's gone down through fairly key levels into its current zone. But we are still three weeks away from any meeting," he said, adding that the Kiwi would now need offshore sellers to push it lower.
The Kiwi strengthened slightly against the Japanese yen, the only positive gain for the local currency. It reached 74.84 yen from 74.80 on Wednesday.
That follows talk of more monetary policy easing as Tokyo tries to stimulate an economy that's grappled with deflation for more than two decades.
The pound continued to strengthen against the Kiwi after hitting a low of 56.37 pence to the dollar on July 8. It's currently trading at 52.80, but Mr Kelleher warned that was due to "Kiwi weakness, rather than sterling strength. The pound has barely moved against the US dollar".
The New Zealand dollar fell to 93.30 Australian cents from 94.08 cents and hit 63.34 Euro cents from 64.04 cents. Against the Chinese yuan, it was down to 4.6620 yuan from 4.7156 yuan.
The two-year swap rate fell six and a half basis points to 2.017 per cent from 2.075 per cent. The 10-year swap rate fell four and a half basis points to 2.4425 per cent from 2.485 per cent.