NZ dollar drops to seven-week low

NZ Newswire
5/10/2016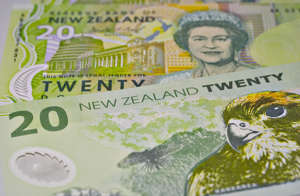 © Daniel Acker/Bloomberg News NZ dollar drops to seven-week low The New Zealand dollar fell to a seven-week low as weaker prices at the latest GlobalDairyTrade auction weighed on the outlook for the country's biggest export commodity, and on speculation the European Central Bank may start unwinding its quantitative easing programme.
The kiwi dropped to 71.87 US cents at 5pm in Wellington from 72.07 cents at 8am and 72.86 cents on Tuesday. The trade-weighted index declined to 76.53 from 77.43.
A drop in prices at the latest GlobalDairyTrade auction weighed on the kiwi, with the GDT price index down 3 per cent to US$2,880 ($NZ4,004), and whole milk powder prices falling 3.8 per cent to US$2,681 ($NZ3,728) a tonne.
Meanwhile, Bloomberg reported the ECB would start tapering its asset purchase programme to unwind stimulus injected into the regional economy, citing unnamed sources.
Scaling back the quantitative easing programme would push up bond yields and reduce the attraction of kiwi assets which have been offering relatively higher interest rates.
"The kiwi's getting hammered from mainly overnight reasons - the decline in the dairy auction and the rumour that the ECB might taper its QE," said Imre Speizer, senior market strategist at Westpac.
Speizer said the kiwi's weakness was more marked against the Australian dollar after the Reserve Bank of Australia kept the target cash rate at 1.5 per cent on Tuesday and signalled it was happy with where rates were.
In contrast, New Zealand's Reserve Bank is still expected to cut the official cash rate in November. The kiwi dropped to 94.11 Australian cents from 95.07 cents.
New Zealand's two-year swap rate rose two basis points to 2.02 per cent and 10-year swaps gained four basis points to 2.54 per cent.
The kiwi fell to 56.22 British pence from 56.82 pence on Tuesday, when it reached the highest level in decades on fears UK Prime Minister Theresa May's exit from the European Union and focus on curbing immigration would cut the country out of the single market. The local currency declined to 64.05 euro cents from 65.08 cents.
The kiwi dropped to 73.87 yen from 74.52 yen yesterday and fell to 4.7927 Chinese yuan from 4.8600 yuan.