NZ dollar gains on tentative Fed

NZ Newswire
7/04/2016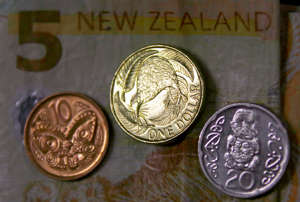 © Reuters/David Gray NZ dollar gains on tentative Fed The New Zealand dollar gained on speculation the Federal Reserve won't rush to raise US interest rates while stronger crude oil boosted commodity-linked currencies and traders looked ahead to next week's heavy release of Chinese economic data.

The kiwi rose to 68.27 US cents at 8am in Wellington, from 68.09 cents. The trade-weighted index edged up to 72.22 from 72.15 on Wednesday.
Crude oil prices rose 5 per cent overnight after data from the Energy Information Administration showed US crude oil stockpiles unexpectedly dropped by 4.9 million barrels last week and figures showed a decline in land-based US oil rigs. That helped lift the CRB Index of commodities and currencies such as the kiwi and Australian dollar.
Fed chair Janet Yellen speaks at a panel discussion at a New York nonprofit function, along with former Fed chairs Ben Bernanke, Alan Greenspan and Paul Volcker on Friday morning New Zealand time but is unlikely to use the occasion to comment on current policy after minutes of the Fed's last meeting showed policymakers are concerned global growth is fragile.
"The combination of a Fed that seems reluctant to raise rates and is very focused on the global economic situation, and, fingers crossed, slightly better data out of China should help lift the kiwi a wee bit," said Robert Rennie, chief currency strategist at Westpac.
The kiwi didn't move much after Reserve Bank deputy governor Geoff Bascand gave a speech about New Zealand's labour market, saying supply and demand were in balance and that was keeping a lid on wage inflation and building the case for accommodative monetary policy.
The New Zealand dollar advanced to 4.4192 yuan from 4.4088 yuan on Wednesday and increased to 48.37 British pence from 48.06 pence. It fell to 89.69 Australian cents from 90.05 cents, fell to 74.55 yen from 75.15 yen, and was little changed at 59.89 euro cents from 59.86 cents.
The two-year swap rate rose 3 basis points to 2.18 per cent and 10-year swaps rose 2 basis points top 2.93 per cent.