NZ dollar gains to 3-month high vs AUD

NZ Newswire
12/05/2016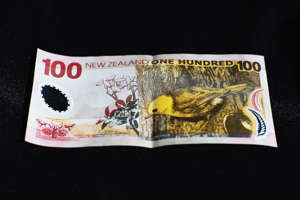 © Hannah Peters/Getty Images NZ dollar gains to 3-month high vs AUD The New Zealand dollar rose to a three-month high against the Australian dollar as traders wound back their bets on the pace of rate cuts by the New Zealand central bank and commodity prices weakened in Asia.
The kiwi rose to 93.04 Australian cents as at 5pm in Wellington, from 92.38 cents on Wednesday. The local currency rose to 68.30 US cents from 67.92 cents.
The local currency has strengthened since the release of the Reserve Bank's financial stability report on Wednesday, having been sold off ahead of the release on expectations there would be new measures to cool the housing market. Instead, the bank said it was "closely monitoring" developments in the housing market and could introduce loan to income restrictions. Finance Minister Bill English had stoked speculation the previous day by hinting the central bank had new measures up its sleeve.
"The market was quite disappointed in the FSR, given what English had said," said Tim Kelleher, head of institutional FX sales at ASB Bank.
A decline in some commodities in Asia, including crude oil, had also weighed on the Australian dollar, he said.
The kiwi didn't move much after Finance Minister Bill English all but ruled out income tax cuts in the government's 2017 election year Budget.
In his traditional pre-Budget speech to the Wellington Chamber of Commerce, English said the government would prioritise repaying government debt over new spending and tax cuts in the next five years.
Also out, the food price index rose a modest 0.3 per cent in April for an annual gain of 0.5 per cent, while a separate release showed the BNZ-BusinessNZ performance of manufacturing index rose to a seasonally adjusted 56.5 last month from 54.7 in March, the first gain in two months.
The New Zealand dollar gained to 47.30 British pence from 47.01 pence, advanced to 74.35 yen from 73.88 yen and increased to 4.4428 yuan from 4.4235 yuan. It rose to 59.80 euro cents from 59.67 cents. The trade-weighted index advanced to 72.83 from 72.49.
The two-year swap rate rose 4 basis points to 2.19 per cent and the 10-year swaps rose 3 points to 2.83 per cent.