NZ dollar holds gains on Macron win

NZ Newswire
8/05/2017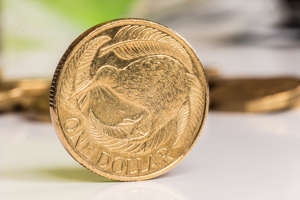 © Getty Images The New Zealand dollar has held on to gains following Emmanuel Macron's emphatic victory in the French presidential election, with Wall Street's fear gauge now at a 10-year low.
The kiwi traded at US69.13c as at 8am in Wellington from US69.23c on Monday, having recovered from an 11-month low last week.
The trade-weighted index was at 75.38 from 75.39 on Monday.
The Chicago Options Board Exchange's Volatility Index, known as the VIX "fear gauge", fell to 9.72, the lowest reading since early 2007, as stocks on Wall Street reached new highs in the wake of Macron's victory over National Front candidate Marine Le Pen in France.
Investors have been wary of geopolitical events in the past year and the election of Macron was seen as returning some certainty for investors.
"With bond and currency volatility measures also at low levels, it does seriously question those who claim the outlook is highly uncertain," Bank of New Zealand currency strategist Jason Wong said in a note.
"The market certainly doesn't think so and pricing of vol and risk would actually suggest a more certain outlook than usual prevails."
New Zealand's two-year swap rate edged up half a basis point to 2.33 per cent and 10-year swaps rose 1 basis point to 3.43 per cent in early trading.
BNZ's Wong said the kiwi was "holding up well" ahead of the Reserve Bank's monetary policy statement on Thursday, which is expected to see governor Graeme Wheeler keep the official cash rate at 1.75 per cent and potentially signal rate hikes may come earlier than 2019.
The kiwi traded at A93.49c from A93.48c on Monday ahead of Australian retail sales figures and the federal budget announcement on Tuesday.
The local currency rose to 78.23 yen from 78.04 yen on Monday and fell to 4.7727 Chinese yuan from 4.7769 yuan.
It edged up to 63.24 euro cents from 63.10 euro cents on Monday and was almost unchanged at 53.40 British pence from 53.41 pence.