NZ dollar off lows ahead of RBNZ statement

NZ Newswire
20/07/2016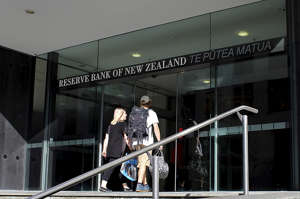 The New Zealand dollar edged up from its lowest levels in a month ahead of an economic update from the Reserve Bank on Thursday.
The Kiwi traded at 70.56 US cents as at 5pm, up from 70.27 cents late on Tuesday when it tumbled following the Reserve Bank's announcement of further measures to cool the housing market.
The trade-weighted index slipped to 75.68 from 75.74.
The Reserve Bank is to give a brief update on its economic assessment at 9am on Thursday.
It won't review the official cash rate until the next monetary policy statement on August 11.
Speculation has grown that the bank will cut the OCR to 2 per cent next month after it unveiled further curbs to mortgage lending, which would help offset the stimulus lower borrowing costs could give to the housing market.
"The market has priced in 80 per cent chance of a cut in August," said Mitchell McIntyre, senior corporate FX dealer at NZForex.
Still, the Kiwi "is probably oversold" and may have overreacted to what may be in the RBNZ statement, meaning there is a chance the Kiwi will be higher "when the dust settles", he said.
The RBNZ is expected to express its concern at the strength of the currency, which on a TWI basis is still well above its projection for the average level in the third quarter.
A stronger currency reduces imported inflation and makes it harder for the central bank to drive inflation back up to its target band.
The Kiwi rose to 94.08 Australian cents from 93.35 cents on Tuesday. It was little changed at 74.81 yen from 74.80 yen and dropped to 4.7156 Chinese yuan from 4.7488 yuan. It rose to 53.83 British pence from 53.57 pence and was little changed at 64.04 euro cents from 64.08 cents.
The two-year swap rate rose about 2.5 basis points to 2.075 per cent and the 10-year swaps rose 1.5 points to 2.485 per cent.