NZ dollar slips from 10-month high

NZ Newswire
20/04/2016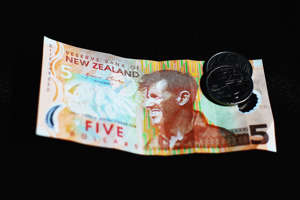 © Hannah Peters/Getty Images A New Zealand five dollar banknote and Australian coins The New Zealand dollar fell from a 10-month high as a dip in crude oil took the shine off commodity currencies.
Also, some traders took advantage of the Kiwi's 2 per cent gain in the past two days to sell down their holdings and lock in profits.
The Kiwi fell to 70.06 US cents as at 5pm from as high as 70.54 cents overnight and 69.96 cents on Tuesday. The trade-weighted index retreated to 73.46 from 73.78 earlier in the day but was up from 73.06 on Tuesday.
Brent crude rose to as high as $US44.49 ($NZ63.16) a barrel overnight, before retreating on news that Kuwaiti oil workers would end their strike in order to return to talks with the government.
Crude spiked on Monday after Iran rejected a proposal to limit production as part of efforts to underpin prices, which have fallen from US$110.65 a barrel two years ago. The Kiwi, the Australian and Canadian dollars all rallied as commodity prices gained this week.
"The Kiwi's had a stellar run in the last few weeks. It's now in a new range of 70 (US) cents to 72 cents," said Imre Speizer, a strategist at Westpac Banking Corp.
"It's just taking a breather. People who have put on the trade on the way up and think there's an upside to 72 cents and bought it at 65-67 cents are thinking this is not a bad point to take profit."
The Kiwi dipped earlier after Bloomberg News reported Finance Minister Bill English as saying he wanted to move to semi-annual reviews of the Reserve Bank from annual reviews, and while he stressed it wasn't performance-related, the market saw it as adding pressure to governor Graeme Wheeler to return inflation to the target 1 per cent-to-3 per cent range.
"That argues for a lower Kiwi and lower interest rates," Mr Speizer said.
The New Zealand dollar rose to 90.04 Australian cents from 89.97 cents late Tuesday and was little changed at 76.25 yen from 76.30 yen. It traded at 61.64 euro cents from 61.79 cents and slipped to 4.5263 yuan from 4.5292 yuan. The Kiwi was little changed against the British Pound at 48.77 pence.
The two-year swap rate fell 4 basis points to 2.23 per cent and 10-year swaps fell 4 points to 2.92 per cent.