NZ dollar soars above 71 US cents

NZ Newswire
9/06/2016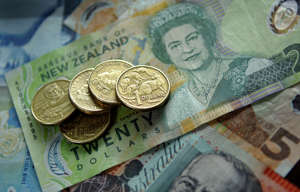 © Bloomberg

The New Zealand dollar surged after the Reserve Bank kept the official cash rate unchanged and governor Graeme Wheeler said he didn't want to provide any more stimulus to an overheated housing market, stoking speculation a rate cut in August may be off the cards as well.
The kiwi traded at 71.37 US cents as at 5pm in Wellington, and earlier touched a 12-month high of 71.46 cents, from 70.02 cents on Wednesday. The trade-weighted index climbed to 75.68 from 74.39.
The kiwi jumped about 1 US cent after the release of the Reserve Bank's monetary policy statement at 9am this morning and extended its gains after RBNZ chief economist John McDermott said the cost of waiting until the next MPS in August before deciding whether to cut rates was "much lower" than the risk of cutting now and adding more fuel to the property market via cheaper borrowing costs.
The kiwi surged against most cross rates, with its gain against the pound helped by talk that Vodafone would be looking to sell sterling and buy New Zealand dollars to loan Sky TV $1.8 billion for its proposed merger with Vodafone New Zealand.
"The kiwi has been bid all day. Wheeler is completely concerned about the housing market and no further stimulus is needed at the moment," said Tim Kelleher, head of institutional FX sales at ASB Bank.
"The next move is data dependent - there's a chance of a cut in August but there's also a chance they don't go in August as well."
Added to that were comments from the RBNZ that it has limited ability to influence the New Zealand dollar, he said. "That's a red rag to a currency bull."
The New Zealand dollar surged to 95.50 Australian cents from 93.80 cents. It climbed to 62.55 euro cents from 61.56 cents and to 49.15 British pence from 48.11 pence. The kiwi rose to 4.6792 yuan from 4.6004 yuan and rose to 76.16 yen from 74.91 yen.
The two-year swap rate rose 4 basis points to 2.31 per cent and the 10-year swaps fell 1 basis point to 2.84 per cent.