NZ First holds balance in latest poll

NZ Newswire
23/05/2016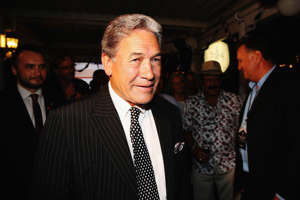 © Hannah Peters/Getty Images File photo: New Zealand First party leader Winston Peters is congratulated by supporters at The Duke Of Marlborough Hotel on March 28, 2015 in Russell. National and Labour have gained support in the latest opinion poll but NZ First would still be able to decide the winner if an election was held now.
The Roy Morgan poll released on Monday shows National up three points to 45.5 per cent and Labour up 3.5 points to 29.5 per cent, compared with the last poll a month ago.
With the Greens down 2.5 points to 12 per cent, National is still ahead of a Labour/Greens Alliance.
Although NZ First has dropped three points to 9.5 per cent, it would be able to decide who formed the government.
There was little or no change in support for minor parties.