NZ foreign trust rules inadequate - inquiry

Radio New Zealand
27/06/2016
The inquiry into New Zealand's foreign trusts regime has found the current rules are inadequate, and are not robust enough to protect this country's international reputation.  
The review by John Shewan was ordered in response to questions raised about New Zealand's role in helping wealthy foreigners hide their money offshore, after the release of the leaked Panama Papers.
Mr Shewan recommended a significant increase in information to be disclosed when a foreign trust is set up, annual reporting and increased enforcement.
He described the current disclosure requirements as "light-handed" and said tougher disclosure rules would act as a deterrent for anyone looking to use New Zealand trusts for illicit purposes.
Mr Shewan said while there was no direct evidence in the Panama Papers material that had been made public that illicit funds were being hidden in New Zealand foreign trusts, or of tax abuse, he considered it "reasonable to conclude that there are foreign trusts being used in this way".
He said the current legislation, regulations and practice governing foreign trust disclosures presented "both the potential and the environment for this to occur".
And he said while the publicity around the Panama Papers had the potential to cause reputational damage to New Zealand, any adverse impact could be avoided if disclosure rules were tightened.
Mr Shewan said foreign trusts, like domestic trusts, were a "legitimate vehicle" used primarily to manage family wealth, and they were supported by a "significant" industry in New Zealand.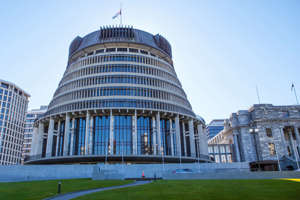 His recommendations include:
When foreign trusts are set up or registered it should be through an expanded version of the current disclosure form IR 607, to include name, email address, foreign residential address, country of tax residence and tax identification of all of the people connected to the trust.
That a register of foreign trusts be established, that only regulatory agencies can search.
That the person establishing the trust, the settlor(s), and trustees have been advised of various legal obligations around anti-money laundering, record keeping requirements and information exchange, and sign a written declaration accordingly.
That this registration apply to all trusts established after a new law is introduced, and that existing trusts have until June 2017 to come under the new regime.
Finance Minister Bill English said Mr Shewan's recommendations were "sensible and well-reasoned" and the government remained open to making improvements.
He said the government planned to implement the recommendations after officials had examined Mr Shewan's report in detail and had reported back to ministers.
Mr English said a formal response would be issued in the coming weeks.