NZ Jewish Council outraged by desecration

NZ Newswire
23/06/2017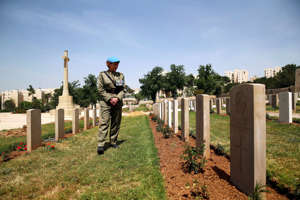 Gravestones have been kicked over at a cemetery in Israel that is the resting place of 31 New Zealand soldiers.
Three Jewish teenagers have been arrested for the vandalism at the Beersheba War Cemetery, Newshub reported.
It is not known if any of the New Zealand headstones were kicked over.
The Battle of Beersheba took place in 1917, when Australian, British and New Zealand forces captured a heavily fortified Turkish garrison.
The New Zealand Jewish Council says the cemetery is an important part of the New Zealand-Israel relationship.
"Many New Zealanders have visited these graves to pay their respects to the young men who made the ultimate sacrifice to defeat the Ottoman Empire," council president Stephen Goodman says.
Israeli police have not said whether the incident was religiously motivated or not.
A major New Zealand and Australian commemoration will be held at the cemetery on October 31 to mark 100 years since the battle.