NZ kayakers ready for first World Cup

NZ Newswire
16/05/2017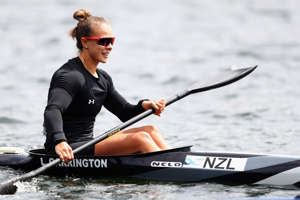 New Zealand's sprint canoeists don't expect their revamped approach to the World Cup regattas to reap immediate rewards in Portugal.
Double K1 Olympic champion Lisa Carrington has shifted into team boats for the regattas in Portugal this weekend and Hungary a week later.
The eight-strong, all-female Kiwi squad comprises two K4 boats and various K2 combinations, with Carrington choosing to focus on team goals at the Montemor-o-Velho venue.
Caitlin Ryan will get a chance to test her K1 500m credentials, opening the Kiwi campaign on Friday, while Carrington and Aimee Fisher and Kim Thompson and Rebecca Cole will race the K2 500m heats.
Two boats will contest the straight final of the K4 500m on Sunday.
New Zealand's best hope is the combination of Carrington, Ryan, Fisher and Kayla Imrie.
Carrington replaces the retired Jaimee Lovett in the only change to the crew who placed fifth at the Rio Olympics.
Coach Rene Olsen likes the new set-up, with Imrie having shifted from the second seat to the front.
"Lisa has done a great job of adjusting to the bigger boat," Olsen said.
"She has worked hard to make sure the boat gets the maximum benefit out of her great power. But we're focusing on the long game, using each race as another opportunity to check and adjust the process."
Thompson, Cole, Briar McLeely and Britney Ford will form the second Kiwi quartet.
Of the other Olympic K4 finalists, only fourth-placed Ukraine will return with most of their crew intact.
Ryan's ability in a K1 boat will be severely tested by Poland's Marta Walczykiewicz, who finished second to Carrington in the K1 200m at the last four world championships and in Rio.