NZ Maori to unleash Loane double act

NZ Newswire
3/11/2016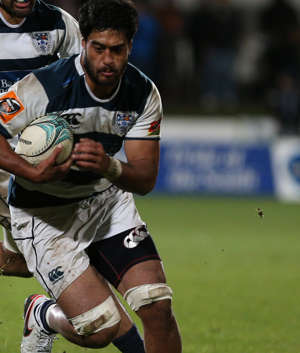 © Dianne Manson/Getty Images Akira Loane of Auckland Maori All Blacks loose forward Akira Loane thought, after a long season of provincial and club rugby, he'd finally been rid of brother Rieko.
But he thought wrong.
Rieko, 19, has been released from the All Blacks squad to play with his older brother in Friday's match against USA, lining up on the right wing.
The Auckland and Blues utility back dazzled at provincial level in 2016, nabbing 10 tries and 22 line breaks in just nine games and earning a Test call-up.
He is likely to make his All Blacks debut against Italy in a week's time, but has been told to first get some minutes under his belt with the Maori side.
Rieko told reporters on Wednesday the two sides deployed a similar game plan, simplifying his transition into the squad.
Fellow young gun Damian McKenzie, halfback Tawera Kerr-Barlow and loose forward Elliot Dixon have also dropped into the Maori All Blacks.
"Steve (Hansen) and Ian (Foster), they've just told me they need some game time from me," Rieko said.
"Getting some time at that next level will only be positive for me, that's all they've instructed me to do."
Akira, 23, joked that he rarely got his hands on the ball with his brother on the field, but was glad to see him on the same side again.
Emanating from Auckland Ngapuhi and Te Whanau-a-Apanui, the Ioane brothers had also used their Maori All Blacks stint to learn more about their ancestry.
"We are taking it as a Test and I'm just happy to be back with my mate here, and hopefully we do well on Friday," Akira said.
"It's always good to play with him, he does some pretty crazy stuff."
Head coach Colin Cooper said the use of the four All Blacks squad members was mutually beneficial.
The quartet could keep fit for the Test side and deepen the Maori side's playing stocks on the Chicago leg of their post-season tour.
They will next head to Europe for matches against Munster and the Harlequins.
"There's relationships now going on with the All Blacks, so we can build, hopefully getting an even better team than we're producing on Friday," Cooper said.