NZ men in pursuit of world champs gold

NZ Newswire
3/04/2017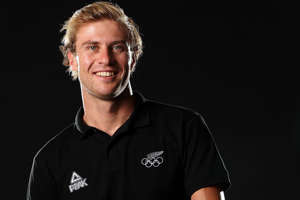 © Michael Bradley/Getty Images Pieter Bulling The New Zealand men's endurance team are looking to improve on their solid performance at the Rio Olympics when they race at next week's world track cycling championships in Hong Kong.

The bulk of the team who finished within a whisker of bronze in the Games team pursuit have been retained, with Pieter Bulling, Dylan Kennett, Regan Gough and Aaron Gate all back for the year's premier meet.
A strong performance in Hong Kong will be regarded as an important first step towards the 2020 Tokyo Olympics.
"Rio was a little bit of a disappointment but for me it was my first Games so you can't complain about that," Bulling said.
"Going forward there has been a lot of planning with men's endurance and a restructure of the whole program. The group we have going to the worlds is great and the training has been really good."
New Zealand are defending champions following their triumph in Paris two years ago.
Bulling, Kennett and Gough were part of that squad while Gate has also claimed a world title previously, in the Omnium in 2013. Gate was also part of the bronze medal-winning pursuit team at the London Olympics.
"We have a lot of experience in the squad and we all know what it takes so we're going over there with quite a bit of confidence," Bulling said.
However they're keeping their goals in check with the bigger picture of Tokyo taking precedence.
"It's about a process. We're going for a gold medal in Tokyo and whatever result we get in Hong Kong it's just about progressing forward over the next three years."
Promising up and coming riders Nick Kergozou and junior world champion Campbell Stewart have also been included in the men's endurance group.