NZ property value growth slows in March

NZ Newswire
6/04/2016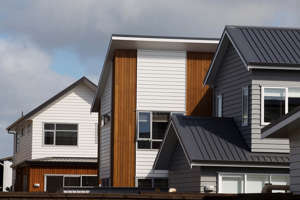 New Zealand property value growth continued to slow in March, although the trend may be coming to an end, according to state-owned valuer QV.
The average value of a New Zealand home rose at an 11.4 per cent annual rate in March to $559,492, slowing from February's 11.6 per cent pace and January's 12.6 per cent rate, QV said.
Values were up 0.2 per cent in the three months through March, ahead of the 0.1 per cent pace in the three months through February.
Property values in Auckland rose an annual 16.9 per cent rate to $931,061. Auckland property values have been stoked by a shortage of supply as the country's largest city contends with a rapid increase in population.
"Home values have risen in most parts of New Zealand in the first quarter of 2016 with the exception of the Auckland region where values have been on a slight downward trend over the past three months," said QV spokesperson Andrea Rush.
"However, over the past few weeks activity and demand have begun to pick up again across the 'super city' and values have actually risen again over the past month by 0.6 per cent, so it appears the downward trend may be coming to an end."
Values in Hamilton rose at a 23.3 per cent annual rate to $460,725. In Tauranga, values were up 22.6 per cent over the year to $571,872.
Wellington values increased an annual 7.5 per cent to $491,236. Napier annual values rose 9.1 per cent to $358,732 over the year, while Hastings advanced an annual 9.6 per cent to $331,149.
Christchurch city values rose at a 2.9 per cent annual pace to $485,700, while Dunedin increased 8.1 per cent to $315,185 over the year. Nelson values gained 8.9 per cent to $446,860 on an annual basis.