NZ Rugby mourns death of former All Blacks

NZ Newswire
23/07/2016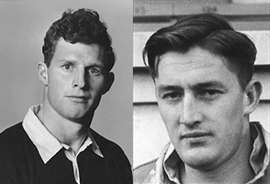 New Zealand Rugby is mourning the death this week of two former All Blacks who hailed from the deep south.
Former Otago outside back Ray Bell died in Dunedin on Tuesday at the age of 90. He was the fourth-oldest living All Black.
After serving in World War II, based in Japan, Bell made his debut in 1951 and played three Tests among his nine All Blacks matches, scoring 29 points in total.
Former Southland midfield back Ray Moreton died on Wednesday at the age of 74.
Like Bell, Invercargill-born Moreton made his Test debut against Australia, and went on to play seven Tests among a total of 12 games from 1962 to 1965.
The long-serving provincial back scored 24 points for his country.