NZ shares advance after RBA announcement

NZ Newswire
6/05/2016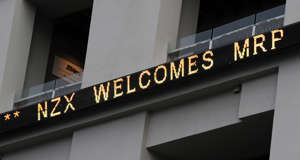 © SNPA / Ross Setford NZ shares advance after RBA announcement New Zealand shares rose, reversing an earlier decline, after the Reserve Bank of Australia downgraded its forecasts for inflation, suggesting interest rates may head lower and prompting investors to seek out higher returns from equity investments.
The S&P/NZX 50 Index gained 21.630 points, or 0.315 per cent, to 6,898.110. Within the index, 31 stocks rose, nine fell and 10 were unchanged. Turnover was $177 million.
The Reserve Bank of Australia this week cut its benchmark interest rate by 25 basis points to a record low 1.75 per cent and in its quarterly monetary policy statement on Friday the bank said it now expected underlying inflation to be at just 1 to 2 per cent this year, below its medium term target of 2 to 3 per cent, prompting speculation interest rates could fall further and sending investors in search of higher yielding assets such as equities.
"The Reserve Bank of Australia came out with some inflation projections that were a little lower than the market had expected for the period ahead and is starting to point to perhaps a further easing by the RBA," said Matthew Goodson, who helps manage more than $1.6 billion of equities in New Zealand and Australia at Salt Funds Management.
Spark advanced 1.4 per cent to $3.70.
Electricity stocks also gained. Meridian Energy increased 1.7 per cent to $2.675, Genesis Energy rose 1.4 per cent to $2.13, Contact Energy lifted 1.2 per cent to $5.15, while Mighty River Power edged up 1 per cent to $3.04.
Metlifecare rose 2.2 per cent to $5.62, Ryman Healthcare gained 0.9 per cent to $9.07, while Summerset Group Holdings increased 1.6 per cent to $4.43.
Z Energy advanced 2.6 per cent to a new record close of $8.18 after it last week gained Commerce Commission approval to buy the rival Caltex and Challenge! petrol station chains.
Sky TV was the biggest decliner on the benchmark. Its shares sank 16 per cent to $4.63.
Air NZ slid 3.5 per cent to $2.36 after oil prices rose overnight and investors mulled the national carrier's plan to divest its quarter stake in Virgin Australia.