NZ shares bounce after fall

NZ Newswire
27/10/2016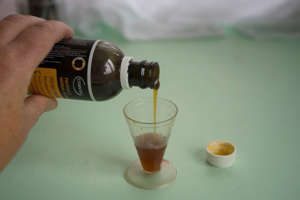 © Jill Ferry/Moment Mobile/Getty Images Manuka honey and echinacea herbal elixir which helps relieve cold symptoms being poured into a measuring cup New Zealand shares bounced back from Wednesday's 1.5 per cent drop, led by Port of Tauranga and Scales Corporation while Comvita continued to fall.
The S&P/NZX50 Index rose 45.75 points, or 0.7 per ent, to 6,941.95. Within the index, 29 stocks rose, 12 were unchanged and nine fell. Turnover was $124.8 million.
"There's a little bit of a bounce - the market was obviously very weak yesterday, but it's made back about a third of that today, so maybe people are doing a bit of bargain hunting," said James Smalley, director at Hamilton Hindin Greene.
"It's really broad-based but volumes aren't particularly massive. When foreign investors decide to reduce their weighting at the same time as domestic ones, you can get get relatively large movements on low volumes."
Port of Tauranga led the index, up 2.7 per cent to $3.75. Scales Corporation rose 2.4 per cent to $2.09, while Kathmandu Holdings gained 2 per cent to $2.01 and Meridian Energy was up 2 per cent to $2.60.
Comvita dropped 1 per cent to $9.35. The shares slumped 11.4 per cent on Wednesday after the manuka honey and health products maker warned a first-half loss was on the cards, which chief executive Scott Coulter described as a "blip".
"Maybe a little bit of the gloss is coming off the wellness products selling into China - it has been a very very good place to be invested in but there's a bit of profit taking on that end of the market," Mr Smalley said.
Chorus was the worst performer on the index, down 1.3 per cent to $3.70, while Orion Health Group declined 0.9 per cent to $3.20.
Freightways advanced 0.2 per cent to $6.37. The courier and information management company, seen as a bellwether for the New Zealand economy, has reported an upbeat start to the 2017 financial year.
In a first quarter update at the company's annual meeting in Auckland today, Freightways reported net profit rose 9.9 per cent to $14.8m.
In other developments, the organiser of a proposed class action against the directors of failed intelligence software company Wynyard said there has been a rash of shareholders sign up this week since the board appointed voluntary administrators on Tuesday.