NZ shares drop as Brexit fears ease

NZ Newswire
22/06/2016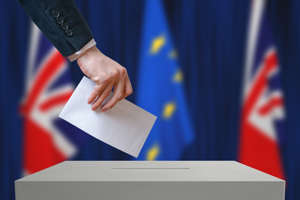 New Zealand shares dropped as fears the UK will exit the European Union continued to dissipate, prompting some offshore investors to exit what they'd seen as a relatively safe haven market. Auckland International Airport, Xero and Tegel Group declined.
The S&P/NZX 50 Index fell 57.67 points, or 0.8 per cent, to 6,781.73. Within the index, 33 stocks fell, 11 were unchanged and six rose. Turnover was $160.4 million.
"What we've seen is a continuation of yesterday - with market views to Brexit changing towards a view there might be no Brexit, it feels like we're starting to see a bit of offshore selling of the kiwi market from funds that may have flooded here in safe-haven type buying," said Matt Goodson, managing director at Salt Funds Management.
Auckland International Airport led the index lower, down 2.8 per cent to $6.27. New Zealand Refining Co dropped 2.7 per cent to $2.55 and Xero declined 2.4 per cent to $18.35.
Goodson said the weakness might also be due to investors fundraising to buy into Stride Property's $185 million initial public offering for Investore, the subsidiary it is spinning out, and Vital Healthcare Property Trust's $160 million rights offer.
Stride Property was the best performer, up 2 per cent to $2.33. The company said that its IPO has been priced at $1.49 a share after the bookbuild was completed, with $170 million allocated to institutional investors and brokers, and $15 million set aside for eligible Stride shareholders. Vital Healthcare was unchanged at $2.13.
Tegel Group fell 1.8 per cent to $1.64.
Steel & Tube Holdings declined 1.6 per cent to $1.87 and Meridian Energy dropped 1.6 per cent to $2.52.
Spark New Zealand rose 0.3 per cent to $3.39. The Auckland-based company's mobile revenue will rise at least 7.9 per cent in the 2016 financial year to over $1.1 billion, which it says will make it the biggest player in the market, ahead of Vodafone New Zealand.
Outside the main index, Pushpay Holdings rose 1.4 per cent to $2.18. The company wants shareholder approval to more than double remuneration for non-executive board members and potentially appoint two US-based directors as it focuses on growth there.