NZ shares fall from record high

NZ Newswire
19/05/2016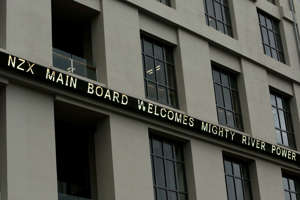 © Hagen Hopkins/Getty Images NZ shares fall from record high New Zealand shares fell from a record high as speculation about a Federal Reserve rate hike next month drove up the US dollar and prompted some offshore funds to trim their investments.
Auckland International Airport, Meridian Energy, and Genesis Energy led a late selloff.
The NZX 50 fell 79 points, or 1.1 per cent, to 6903.63. Within the index, 33 stocks fell, 12 rose and five were unchanged. Turnover was $215 million.
Stock markets were broadly weaker across Asia after the minutes of the last Federal Open Market Committee meeting showed an interest rate hike in the US next month was possible, provided economic data plays out as expected.
"If rates are going higher then maybe the US dollar is going to be stronger and typically offshore funds would sell assets and bring the money back home," said James Lindsay, senior portfolio manager at Nikko Asset Management.
Auckland Airport dropped 4.2 per cent to $6.37 while Meridian fell 3.8 per cent to $2.685 and Genesis declined 3.3 per cent to $2.05.
A2 Milk fell 6.4 per cent to $1.61, leading the index lower, Orion Health Group fell 3.1 per cent to $4.69 and Xero declined 2.7 per cent to $16.92.
Infratil fell 2.8 per cent to $3.28 after the Wellington-based investor said it will spend $A392 million ($NZ420.49m) for a 48 per cent stake in Canberra Data Centres.
Goodman Property Trust fell 0.4 per cent to $1.365 after posting a 4.2 per cent gain in annual earnings.
Rakon dropped 9 per cent to 25 cents.
Coats Group was unchanged at 63 cents after the UK-based thread-maker reiterated its guidance for a "modest" increase in annual earnings before one-time items and affirmed plans to delist from the NZX and the ASX and keep its London Stock Exchange listing.
Ryman Healthcare fell 1.3 per cent to $9.60 ahead of its full-year results on Friday. Metro Performance Glass rose 2.2 per cent to $1.86 and Summerset Group Holdings rose about 2 per cent to $4.69. Contact Energy gained 0.4 per cent to $5.39.