NZ shares follow Wall St on rates outlook

NZ Newswire
5/10/2016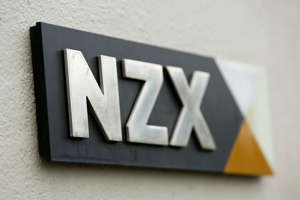 © Hagen Hopkins/Getty Images NZ shares follow Wall St on rates outlook New Zealand shares followed Wall Street lower on renewed speculation the US Federal Reserve will raise interest rates later this year, dimming the attraction of stocks. Tegel Group Holdings, Genesis Energy and Orion Health Group fell.
The S&P/NZX 50 Index fell 81.3 points, or 1.1 per cent, to 7,271.16. Within the index, 37 stocks fell, eight rose and five were unchanged. Turnover was $153.4 million.
Wall Street's S&P 500 index dropped 0.5 per cent as the latest comments from Federal Reserve officials underpinned bets the central bank will raise interest rates, possibly as early as next month.
"The New Zealand market's pretty weak - overnight, the Fed governor Lacker talked about the potential for interest rates to go higher, and our market has taken it right between the eyes," said Shane Solly, director at Harbour Asset Management.
"Utility stocks in particular have copped it, they're relatively big, relatively liquid and they're great when bond yields are falling - we're just getting the other side of the equation here, and that's really what's taken the market lower."
Tegel was the worst performer, down 4.4 per cent to $1.52. The poultry group, which was taken public by private equity firm Affinity Equity Partners in May this year, rose 9 per cent in its NZX debut and traded as high as $1.78 in August, but was sold off heavily in September.
Genesis Energy dropped 4 per cent to $2.025, Orion Health shed 3.4 per cent to $3.42, and Argosy Property fell 2.7 per cent to $1.085.
Infratil declined 3.7 per cent to $3.13. Trustpower, which is controlled by Infratil, dropped 0.7 per cent to $7.60. It has delayed its plans to carve out its windfarms and renewable development pipeline into a standalone business after a once-in-50-year storm caused significant damage to the state's transmission system.
Westpac was the best performer on the index, up 2.4 per cent to $32.30.
NZX rose 1.9 per cent to $1.05 and Trade Me Group gained 1.4 per cent to $5.68.
Outside the benchmark index, Pushpay Holdings dropped 13 per cent to $2.23.