NZ shares gain, Steel & Tube and Xero rise

NZ Newswire
21/07/2016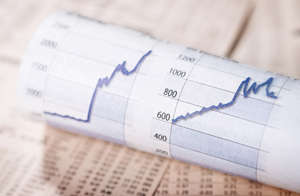 New Zealand shares gained as investors were buoyed by potential interest rate cuts, with Steel & Tube Holdings, Xero and Westpac Banking Corp gaining, while New Zealand Refining Co fell.
The S&P/NZX 50 Index rose 41.38 points, or 0.6 per cent, to 7,214.05, another record high. Within the index, 32 stocks rose, nine fell and 10 were unchanged. Turnover was $155.4 million.
Grant Williamson, director at Hamilton Hindin Greene, said the Reserve Bank's indication it will move to cut interest rates has encouraged the market.
"Overall investors are still pretty positive, and with expected interest rate cuts we do see the higher yielding stocks come in for demand," Mr Williamson said.
"Maybe even one or two investors are put off by the media talking about housing and how it's overpriced, people have got to put their money somewhere."
Steel & Tube Holdings led the index, up 4.5 per cent to $2.11. It's recovered 11 per cent in the past week, though is down 9.8 per cent this year. Its share price has been depressed by a Commerce Commission investigation into the sale of "many thousands of sheets" of earthquake reinforcing mesh with certificates which wrongly used an independent laboratory's logo.
Xero rose 3.6 per cent to $19.47. The software-as-a-service firm held its annual meeting in Sydney on Wednesday, where chief executive Rod Drury told investors it will start offering new services as it seeks to transform the platform founded on accounting software into the online portal of choice for small businesses.
The banks rallied as major lenders clamped down on lending to property investors by requiring at least a 40 per cent deposit ahead of Reserve Bank restrictions. Westpac Banking Group gained 2.5 per cent to $32.85, Heartland Bank rose 1.5 per cent to $1.33, and Australia & New Zealand Banking Group advanced 1.5 per cent to $27.20.
Fletcher Building gained 1.1 per cent to $9.24.
"We haven't seen these sorts of levels for a while; I think investors are expecting a pretty big uptick in the company's fortunes as the residential building in New Zealand is going to have to go up significantly to cover the housing shortage," Mr Williamson said.
Nuplex dropped 0.6 per cent to $5.26. The global resins maker says the planned takeover by Allnex is now not likely to take place in August as previously advised because of delays getting anti-trust clearance in the European Union.