NZ shares rise, posts 6.2% quarterly gain

NZ Newswire
31/03/2016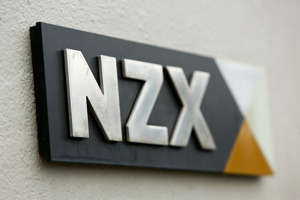 New Zealand shares rose, pushing the NZX 50 Index to a fresh record and rounding out a 6.2 per cent quarterly gain. Orion Health Group, Xero and Fletcher Building gained.
The S&P/NZX gained 38.26 points, or 0.6 per cent, to 6,752.42. Within the index, 33 shares rose, 14 fell and three were unchanged. Turnover was $186.7 million.
The index has grown 4.7 per cent in the first quarter, reaching fresh record highs after most trading sessions in March.
"The NZX is just continuing on its remarkable run this month, there's generalised strength across a number of names as we come into the end of this quarter," said Matthew Goodson, managing director at Salt Funds Management.
Orion Health Group led the index, up 6.8 per cent to $3.47. It gained for a second day after the Auckland-based medical software provider said it had signed a deal with a major healthcare insurer in the United States which will see its Amadeus platform rolled out to its 3 million-strong membership base.
Xero rose 2.5 per cent to $15.43 while Freightways gained 1.9 per cent to $6.35.
Fletcher Building advanced 1.7 per cent to $7.89. The stock has gained nearly 20 per cent since announcing its first-half earnings in mid-February, where it posted a 51 per cent gain in first-half profit.
Metlifecare grew 1.6 per cent to $5.25. It has added 22 per cent to its value since its first half earnings, announced on Feb. 24, where it tripled net profit to $125.7 million.
Sky TV rose 1.4 per cent to $4.98 while Mighty River Power advanced 1.2 per cent to $2.92.
Genesis lost most, down 5.1 per cent, or 11 cents, to $2.05. It gave up rights to an 8.2 cent interim dividend on Thursday, payable on April 15.
Ryman Healthcare fell 1.2 per cent to $8.35, and Tower dropped 1.1 per cent to $1.78.
Non-NZX 50 stock Synlait Milk rose 3.3 per cent to $3.15.
Compliance listing Oceania Natural climbed 70 per cent to $1.09 on their NXT debut.
Energy Mad shares jumped 66.7 per cent to 5.5 cents.
CBL Corp was unchanged at $2.45.