NZ shares slump to finish trading week

NZ Newswire
7/10/2016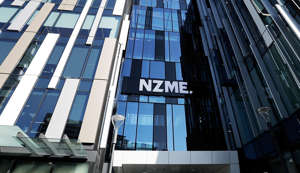 © Fiona Goodall/Getty Images NZ shares slump to finish trading week New Zealand shares fell for the fourth straight session on Friday, led lower by Trade Me Group, Chorus and NZME as News Corp sold its stake in the local news provider.
The S&P/NZX50 Index dropped 29.47 points, or 0.4 per cent, to 7167.82. Within the index, 29 stocks fell, 12 rose and nine were unchanged. Turnover was $140.3 million.
The local index is down 2.6 per cent this week and is near a three-month low, having seen heavy selling as the appetite for yield appears to be drying up as the US Federal Reserve has indicated it's closer to interest rate hikes.
"The key thing that's changed has been this chase for yield, which in our view had driven many New Zealand names past fundamental fair value, so it's left a bit of a gap as the chase for yield around the world has been unwinding," said Matt Goodson, managing director at Salt Funds Management.
"There's two reasons for it: one, the views of the Fed, and the potential that November could even be time for a rate rise, while December's looking quite certain; and secondly, the Japanese central bank has changed from quantitative easing to yield targeting.
Trade Me Group led the index lower, down 4.4 per cent to $5.38. New Zealand Refining Co dropped 2.8 per cent to $2.42 and Metlifecare declined 2.8 per cent and $5.92.
Chorus shed 2.3 per cent to $3.76. The telecommunications company has handed more of its New Zealand ultrafast broadband network work to Australia's Visionstream, while warning the cost of the project will be at the top end of its projected range.
Heartland Bank was the best performer, up 2.7 per cent to $1.50, while Spark gained 1.7 per cent to $3.51 and Fletcher Building rose 0.9 per cent to $10.27.
Outside the benchmark index, NZME fell 4 per cent to 73 cents. News Corporation has sold its 14.9 per cent stake at 67.8 cents per share, a significant discount, in transactions on both the NZX and ASX.
CBL Corp dropped 0.5 per cent to $3.68. The Auckland-based credit surety and financial risk insurer, which raised $60 million to help fund its international ambitions, has declared an interim dividend of 3 cents per share.