NZ sisters in hunt for youth world medal

NZ Newswire
19/12/2016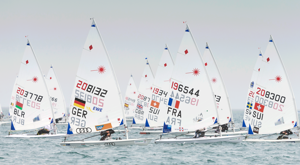 Siblings Greta and Kate Stewart provide New Zealand with their best chance of winning a medal at the youth sailing world championships in Auckland.
The pair dropped from second to third overall on the penultimate day of competition on Monday and have no chance of winning gold, which has been secured by Australians Natasha Bryant and Annie Wilmot with a race to spare.
However, the Stewart sisters are just two points behind Polish rivals and are well clear of the rest of the 24-strong 29er fleet.
The eight Kiwi crews generally struggled in flat conditions on day four.
Laser Radial hopeful George Gautrey dropped from third to sixth and is realistically out of medal contention.
Nacra 15 duo Jackson Keon and Tom Fyfe are also sixth while two other New Zealand crews are in the top-10.