NZ tourism industry well placed for future

NZ Newswire
13/05/2016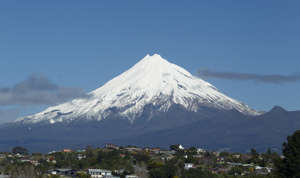 © SNPA / Ben Campbell Mount Egmont, New Plymouth, New Zealand New Zealand has never been as well connected to the world as it presently is, the CEO of the New Zealand Tourism Industry Association, Chris Roberts told the industry's annual showcase TRENZ, which winds up in Rotorua on Friday.
After two years of flat-lining the international market had grown by 20 per cent contributing $32.5 billion to the economy to the end of March.
"Visitors are opening their wallets and spending while they are here," he said.
However the need remained for tourism to be spread around the country, not just the long-standing popular destination but into other less traditional regions.
"We haven't cracked this nut yet," he said.
He announced a branding refresh which would see the Tourism Industry Association become Tourism Industry Aotearoa, emphasising its role in advocating for the industry in its entirety.
Air New Zealand CEO Chris Luxon echoed the need for the burgeoning tourism industry to be spread nationwide.
The airline was playing its part with a 7 per cent capacity increase in aircraft servicing the regions.
"Tourism is the next ultimate team sport, we need to work on it together really, really well," he said.
Houston, the airline's latest US link had already become an important market.
"You get on board, eat a couple of meals, sleep and wake up in Middle Earth," the CEO said.
The massive growth in the Chinese market had seen visitors stay for an average of 8 days.
"We are selling to honeymooning couples in their 30s with the slogan 'every day is Valentine's Day in New Zealand'."
The Japanese market which had been in decline, had bounced back with an Air New Zealand Osaka link scheduled to return.
Tourism New Zealand chief executive Kevin Bowler emphasised the need for more energy to be directed into promoting New Zealand in off-peak periods with itineraries tailored towards big spenders travelling to ski, cycle and play golf.
Next year's event is to be held in Auckland, May 9-12.