NZ troops return from Iraq

NZ Newswire
26/11/2016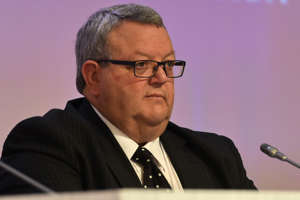 © AFP PHOTO / ROSLAN RAHMAN Gerry Brownlee About 100 New Zealand Defence Force troops are returning from Iraq.
Defence Minister Gerry Brownlee and Vice Chief of the Defence Force Air Vice-Marshal Kevin Short welcomed the contingent home in Christchurch on Saturday evening.
The troops left in April, stopping in Australia for an exercise and then heading to Camp Taji.
Task Group Taji, a combined Australian-New Zealand military training force, has trained more than 12,000 Iraqi soldiers since their mission began in May 2015.
© Kerry Marshall/Getty Images A contingent of about 100 New Zealand Defence Force troops are returning from Iraq to Christchurch. In June, Prime Minister John Key said New Zealand was extending its deployment in Iraq until November 2018. It had been set to finish early next year.
The government also agreed in principle to allow New Zealand soldiers to provide training to stabilisation forces such as the Iraqi Border Guards, in addition to the Iraqi Army.
Mr Key said New Zealand's efforts in the country had been welcomed by the Iraqi government and the anti-ISIS coalition.
US Secretary of State John Kerry also thanked New Zealand for its contribution to the anti-ISIS coalition in Iraq when he visited New Zealand earlier this month.
"We are making a difference," he said.
A fourth contingent of 106 New Zealand Defence Force soldiers left last month.