NZ votes to retain current flag

NZ Newswire
24/03/2016
Over two million people had their say in the second binding referendum on the flag, with close to 57 per cent voting to stick with the existing design, Union Jack and all.
Just over 43 per cent wanted change, voting for Kyle Lockwood's black and blue silver fern design.
Voter turnout in the postal ballot hit just above 67 per cent, significantly higher than the turnout for the first referendum held late last year, which was a little under 50 per cent. 
Earlier on Thursday, before polling closed, Prime Minister John Key said the referendum process had been a success, no matter what the outcome, because it had started a conversation about what the flag means to New Zealanders. 
"I think there's been at least an awakening to the principle that we actually don't use our current flag in the way that other countries use their flag," he told reporters.
"If as a result of all this, if the flag stays the same and we as New Zealanders fly it more, use it more, use it as a way to demonstrate we're proud Kiwis, then that's been a success."
New Zealand is the only country in the world that's ever asked its citizens directly whether they want to change their flag.
Mr Key kicked off the discussion about New Zealand's flag back in March 2014 when he announced National's intention to hold a referendum if it was re-elected.
Then-Labour leader David Cunliffe pledged to do the same if his party ended up in power.
Last year, more than 10,000 public flag design submissions were whittled down to a long-list of 40 by the 12-member flag consideration panel.
That became a short-list of four, but public pressure resulted in a fifth alternative flag - Red Peak - being added as one of the options in the first referendum held late last year.
Mr Lockwood's black and blue silver fern design came out on top in that vote, which meant it would go head-to-head with the current flag in this second referendum.
The official result will be announced on March 30.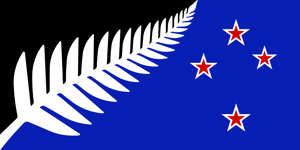 BY THE NUMBERS
$26 million - total cost of the flag referendum process
10,292 - how many flag designs were entered overall
40 - the number of flags on the Flag Consideration Panel's long list
5 - alternative designs in the first referendum
48.78 per cent - voter turnout for first referendum
2,119,953 - the number of New Zealanders who voted in the second flag referendum
67.3 per cent - voter turnout for second referendum
13.4 per cent - winning margin of the incumbent flag