NZ women level hockey series with Australia

NZ Newswire
19/11/2016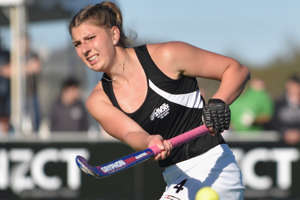 New Zealand have levelled the three-Test trans-Tasman women's hockey series with an emphatic 2-0 win over Australia in Auckland.
Pounded 6-0 by the Hockeyroos just two days ago, the New Zealanders looked a different team on Saturday, bringing real resolve to the second clash at Lloyd Elsmore Park.
With more drive and pace from the midfield, and an uncompromising hour-long defensive effort, the Black Sticks pressured the Australians right from the first whistle.
They worked hard to maintain possession in the opening quarter, building pressure through the midfield but were unable to break through Australia's well-organised defence.
Olivia Merry brought the game alive nine minutes into the second quarter, providing a superb finish to an excellent team goal that was kick-started by the hugely influential Liz Thompson.
The 21-year-old Aucklander pounced on a loose pass as Australia tried to play the ball out, then found Kirsten Pearce on the edge of the circle.
Merry crashed home her 55th goal for New Zealand from Pearce's sublime flick through to give the Kiwis the early lead.
Rachel McCann doubled the margin just three minutes later, dispossessing Kirstin Dwyer before slamming home an unstoppable reverse stick shot.
The Black Sticks' 2-0 lead came under immediate threat in the third quarter, with Australia upping their defensive intensity to double and triple-team the Kiwi ball carrier.
Their urgency went unrewarded, although Murphy Allendorf proved increasingly troublesome, and forced a sharp save from Kiwi keeper Sally Rutherford as the 40-minute mark approached.
Rutherford was again called into action soon after, with Australia forcing their second penalty corner of the match and the New Zealand stopper stifling Anna Flanagan's drag flick.
The final quarter turned into a battle of attrition, the Kiwi defence called on to defend another penalty corner with 90 seconds remaining before controlling possession to close out the win.