NZ wool prices dip at North Island auction

NZ Newswire
27/05/2016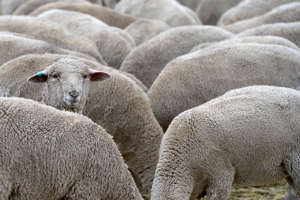 © Carla Gottgens/Bloomberg NZ wool prices dip at North Island auction New Zealand wool prices slipped at Thursday's North Island auction compared to the higher values achieved at last week's South Island selection, with lamb wool leading the fall.
The coarse crossbred wool indicator declined 1 per cent from last week, with the benchmark 39-micron strong wool price slipping to $5.85 per kilogram from $5.95/kg last week, AgriHQ said. The lamb wool indicator slid 2 per cent, with 30-micron lamb wool falling to $5.95/kg from $6.20/kg last week.
"It's becoming more apparent that wool mixes offered at auctions in each island are different to each other," said AgriHQ analyst Shaye Lee.
"The majority of bales offered at the North Island auction were second shear coarse wool types, while last week's South Island auction had a greater selection of types on offer, including merino."
Some 8,600 bales were offered at auction on Thursday, with an 88 per cent clearance rate, according to a report from New Zealand Wool Services International. Next week's South Island sale will include about 6,500 bales.