NZD falls amid signs of soft global growth

NZ Newswire
6/07/2016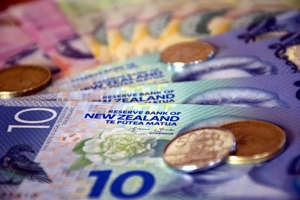 The New Zealand dollar fell, and may extend its decline this week, on signs global growth is softening leading investors to be wary about taking on more risk.
The kiwi fell to 70.95 US cents at 5pm in Wellington, having fallen about 1 US cent from 71.97 cents in the past 24 hours. The trade-weighted index declined to 76.17 from 76.86 on Tuesday.
The UK's Brexit vote has captured the headlines since the result emerged two weeks ago but traders say a range of concerns were already in the market, including potential systemic risks related to European banks, and signs of weaker economic growth in the US and China.
Equity markets and commodities fell overnight after the Bank of England said some of the near-term risks of the Brexit had "begun to crystallise", while three UK commercial real estate funds have suspended redemptions, citing turmoil in financial markets.
"Brexit is getting quite a bit of the blame but there's been a combination of factors that has seen a risk-off tone," said Sheldon Slabbert, a trader at CMC Markets. That risk-off behaviour is likely to continue in the next 24 hours, in the lead-up to US non-farm payrolls, with the kiwi likely to trade in a range of 69.5 US cents to 71 cents, he said.
The US economy probably added 175,000 to 210,000 jobs in June, after a shock slump to just 38,000 new jobs in May. "The US economy is still a bit of a concern", Slabbert said.
A decline in whole milk powder prices at the GlobalDairyTrade auction overnight on Tuesday also weighed on the kiwi dollar.
The kiwi traded at 55.04 British pence, up from 54.32 pence on Tuesday. It slipped to 95.50 Australian cents from 96.81 cents and dropped to 71.59 yen from 73.44 yen as Japan's currency benefited from investors chasing so-called 'safe haven' assets. The kiwi fell to 4.7498 yuan from 4.7981 yuan and fell to 64.19 euro cents from 64.67 cents.
The two-year swap rate decreased 2 basis points to 2.14 per cent and 10-year swaps dropped 8 basis points to 2.56 per cent.