NZD falls as Fed hints at June rate hike

NZ Newswire
19/05/2016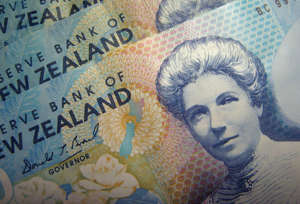 © REUTERS/Dennis Owen/Files NZD falls as Fed hints at June rate hike The New Zealand dollar fell as the US dollar surged in response to the publication of minutes of the last Federal Open Market Committee which hinted at an interest rate increase as soon as next month, driving up demand for the greenback.
The kiwi fell to 67.30 US cents at 5pm in Wellington from 67.90 cents on Wednesday. The trade-weighted index fell to 72.55 from 72.79.
The Fed minutes explicitly mention the chance of a rate hike in June, although with the usual proviso that it would depend on the flow of economic data.
Bets on a June rate cut immediately climbed, with the chances seen as 32 per cent, up from 12 per cent before the minutes were released, based on the overnight interest swap market.
"They seem to want to pull the trigger and hike," said Nick Tvedt, a senior corporate dealer at NZ Forex.
"We would expect the US dollar to have a bit more steam in it yet."
The US dollar index, which measures the greenback against a basket of currencies, rose to its highest level in about five weeks after the minutes were released saying a June hike was "likely" if second-quarter growth, inflation and labour data improved.
The kiwi didn't move much after figures showed the Australian economy added 11,000 jobs last month, while the unemployment rate held at 5.7 per cent, less than the 5.8 per cent rate expected by economists in a Reuters survey.
The New Zealand dollar dropped to 46.16 British pence from 47.02 pence and the pound was among the few currencies not to tumble against the greenback overnight.
The kiwi rose to 74.17 yen from 74.02 yen and fell to 4.4052 yuan from 4.4352 yuan. It dropped to 60.02 euro cents from 60.16 cents and gained to 93.44 Australian cents from 93.17 cents.
The two-year swap rate rose 7 basis points to 2.27 per cent and the 10-year swaps rose 9 basis points to 2.93 per cent.