NZD gains as doubts emerge about Fed hike

NZ Newswire
23/05/2016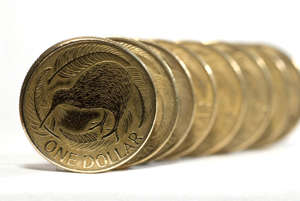 © BLOOMBERG NEWS / BLOOMBERG NZD gains as doubts emerge about Fed hike The New Zealand dollar rose on speculation there are enough uncertainties facing the Federal Reserve to discourage it from hiking interest rates in June, although the odds of a Reserve Bank rate cut next month have also diminished.
The kiwi rose to 67.94 US cents as at 5pm in Wellington, from 67.62 cents at the New York close on Friday. The trade-weighted index rose to 73.08 from 72.82.
The Fed sent a clear message last week, including in the minutes of its last meeting, that a hike was possible in June, dependent on the flow of economic data.
Traders say risks to a hike include proximity to Britain's vote on exiting the European Union, the impact of a strike by 40,000 Verizon workers on US employment data, and weaker manufacturing and industrial production figures from Japan.
"Last week it was all about the (Fed) minutes and the continuation of a strong US dollar," said Robert Rennie, chief currency strategist at Westpac.
"Coming into this week the market is not as confident the US dollar will push higher."
Currently, traders are pricing in a 28 per cent chance that the Fed will hike in June, based on the overnight interest swap market, Rennie said.
Chances of an RBNZ cut at the June 9 monetary policy statement have also dwindled, with odds based on bets in the overnight interest swap market falling to 20 per cent from as much as 76 per cent on May 10.
That's also reflected in the two-year swap rate, which has climbed to as high 2.32 per cent on Monday from as low as 2.12 per cent on May 9.
The two-year swap rate is up from 2.28 per cent on Friday while the 10-year swaps rose 2 points to 2.92 per cent.
The kiwi jumped to 46.79 British pence from 46.32 pence on Friday after Bank of England officials suggested that the UK's economic slowdown was due to more than just the risk the country could vote to leave the European Union.
The New Zealand dollar rose to 93.67 Australian cents from 93.50 cents on Friday. It gained to 60.49 euro cents from 60.33 cents, rose to 74.65 yen from 74.39 yen, and gained to 4.4474 yuan from 4.4241 yuan.