NZD gains to two-month high vs Aussie

NZ Newswire
6/05/2016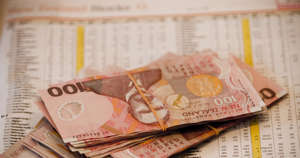 © SNPA / Bethelle McFedries NZD gains to two-month high vs Aussie The New Zealand dollar rose to a two-month high against the Australian dollar after the Reserve Bank of Australia lowered its forecast inflation track, adding to a case for a further interest rate cut across the Tasman.
The New Zealand dollar rose to 92.68 Australian cents and earlier touched 92.81 cents the highest since early March apart from a brief spike on Tuesday when the RBA cut its cash rate to 1.75 per cent.
The kiwi fell to 68.54 US cents, dragged lower by a drop in the Aussie dollar, from 69.02 cents on Thursday.
The RBA on Friday released its monetary policy statement, showing the forecasts and assumptions that prompted this week's rate cut.
Australia's consumer price index fell 0.2 per cent in the first quarter, the biggest quarterly decline since December 2008, for a smaller-than-expected annual gain of 1.3 per cent.
The RBA statement forecasts underlying inflation of between 1 and 2 per cent in 2016, meaning it won't move back within its target range 2-to-3 per cent as it had previously expected.
"The market was a bit surprised by quite how dovish they were," said Mark Johnson, senior dealer at OMF.
Still, the kiwi has now risen to levels against the Aussie "where it looks very elevated to me" given there is growing market expectation that the Reserve Bank of New Zealand will cut the official cash rate to a record low 2 per cent in June.
"The market is moving closer to pricing in more rate cuts from the RBNZ," he said.
The overnight swaps market was indicating a 66 per cent chance of a cut in June, with the odds rising to 96 per cent by the August monetary policy statement, he said.
That was evident in the interest rate market. The two-year swap rate fell 7 basis points to 2.14 per cent today and the 10-year swap rate dropped 10 basis points to 2.81 per cent.
The local currency was little changed at 60.07 euro cents from 60.10 cents on Thursday and fell to 47.30 British pence from 47.56 pence. It fell to 73.40 yen from 73.92, and dropped to 4.4545 yuan from 4.4863 yuan.