NZD up against major trading partners

NZ Newswire
1/06/2016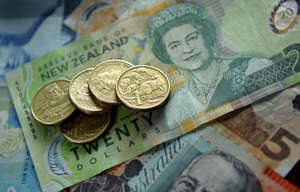 © Jack Atley/Bloomberg NZD up against major trading partners The New Zealand dollar extended its gains after failing to break through key support levels this week as improved terms of trade and better-than-expected Australian growth figures boosted sentiment.
The kiwi rose to 67.85 US cents as at 5pm in Wellington, from 67.27 cents on Tuesday. It pared an earlier gain against the Australian dollar after the growth report but was still higher at 93.25 Australian cents from 92.79 cents on Tuesday.
The New Zealand dollar fell as low as 66.74 US cents this week but failed to push lower against a greenback that has been driven high by speculation the Federal Reserve will raise interest rates this month.
The kiwi gained against the US dollar on Wednesday after figures showed a stronger-than-expected 4.4 per cent increase in New Zealand's first-quarter terms of trade and a 1.1 per cent expansion in Australian gross domestic product in the first three months of the year.
"Terms of trade was good and those Australian GDP numbers were a bit of a standout and helped push momentum," said Alex Hill, head of corporate FX at NZForex.
"The price action that's occurred recently has been about a strong US dollar" but "it looks like there's been a bit of short-term risk sentiment" favouring the kiwi and Aussie dollars.
The two-year swap rate was unchanged at 2.29 per cent and the 10-year swaps rose 3 basis points to 2.93 per cent.
The kiwi rose to 46.85 British pence from 45.83 pence on Tuesday after the latest telephone poll by ICM showed 45 per cent of Britons supported leaving the European Union, a move known as the Brexit, compared with 42 per cent who favoured remaining. A referendum on the issue is due to take place on June 23.
It rose to 61.03 euro cents from 60.41 cents, advanced to 4.4727 yuan from 4.4278 yuan and was little changed at 74.71 yen from 74.77 yen. The trade-weighted index rose to 73.19 from 72.57 on Tuesday.